Flood Determination Form
Understand The Flood Risk of Your Home
The FEMA Standard Flood Hazard Determination Form identifies the Flood Zone, community number, map and panel number, community participation information, insurance availability, map date and entry-date. Typically, this form is the only flood information a lender has on a property.
Avoid Costly Insurance Assigned Improperly by Lenders
Don't let a lender force you into paying for flood insurance just because their automated report indicated your home is high-risk for flooding- You can Run your own Flood Zone Determination.
"Thanks for taking the extra time to make precise measurements of the property.  This is truly expert work.  Your service is very much appreciated!" – Jeff from Idaho
.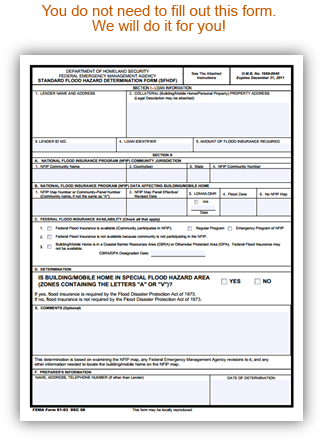 .
Flood Vendor Services Now Available to the Public
Now you can order your own flood determination. At Second Look Flood, we manually research each property and only use the latest available FEMA Flood Zone Map.
No computer programs and never outsourced- only expert Mapping Analysts working for you.
.
Current FEMA Flood Map

Aerial Images

Aerial Overlay with FEMA Map

Flood Zone Identification

Analysis and Support
Current FEMA Flood Map

Aerial Images

Aerial Overlay with FEMA Map

Flood Zone Identification

Analysis and Support

FEMA Determination Form

Preliminary Map Research