Flood Zone Determination
FEMA Standard Flood Hazard Determination Form (SFHDF) identifies the Flood Zone, community number, map and panel number, community participation information, insurance availability, map date and entry-date.
The SFHDF is used by Federally regulated lending institutions when making, increasing, extending, renewing or purchasing a loan for the purpose of determining whether flood insurance is required and available. The form may also be used by insurance agents, property owner, realtors and community officials for flood insurance related activities and flood zone documentation.
Now you can order your own Flood Zone Determination
Second Look Flood specializes in hand-mapped determinations. A flood map specialist and/or a certified floodplain manager manually research each property, ensuring unmatched accuracy.
We support our determination with a FEMA Flood Zone Report using the latest available aerial imagery as evidence. You will see your home on the newest FEMA flood map.
"Thanks for taking the extra time to make precise measurements of the property.  This is truly expert work.  Your service is very much appreciated!" – Jeff from Idaho
.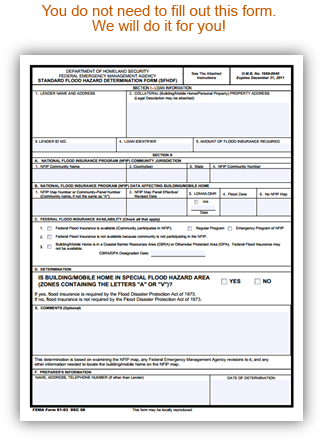 .
Flood Vendor Services Now Available to the Public
No account required
We manually research each property
Latest available FEMA Flood Map

No computer programs
Never outsourced
Expert FEMA Map Analysts
Available in the Dispute Package