Flood Zone Determination
FEMA Standard Flood Hazard Determination Form (SFHDF) 
The SFHDF is used by Federally regulated lending institutions when making, increasing, extending, renewing or purchasing a loan for the purpose of determining whether flood insurance is required and available. The form may also be used by insurance agents, property owner, realtors and community officials for flood insurance related activities and flood zone documentation.
Now you can order your own Flood Zone Determination Form
Second Look Flood specializes in manually researched determinations- No Computers. A flood map specialist and/or a certified floodplain manager manually research each property ensuring unmatched accuracy.
We supplement our determination with a FEMA Flood Zone Report (included) using the latest available aerial imagery as evidence.
Use this form to dispute your lender's flood zone determination. If the mortgage company sees conflicting information, they will turn to the Flood Zone Report as evidence of the correct flood zone.
"Many thanks for your quick research … and very accurate!  Will recommend you to all my clients!" -Belinda in Louisiana

"I'm so impressed with your work – the quality, speed and determination you have provided. Outstanding and very rare. Thank you!" - Bjorn in New Jersey
.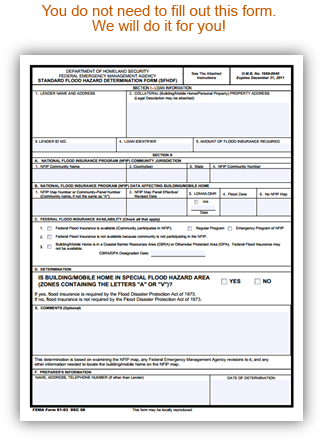 .
Flood Vendor Services Now Available to the Public
No account or contract required
We manually research each order
No computer programs
Current FEMA Flood Map guaranteed
Never outsourced
Expert FEMA Map Analysts
Visual Flood Zone Report included