Real Estate
Be the Realtor that goes above and beyond what's expected
When you're selling homes, The flood zone can play a major part in a buyer's decision. If a house is in a FEMA high-risk flood zone, it's typically harder to sell and more problematic for you as a Realtor.
Provide Important Flood Zone Information
Most of your competitors won't have an accurate flood report to show buyers and sellers. They might rely on incorrect municipal records or out-of-date maps… That is if they look at all.
For your sellers in a high-risk flood zone, you'll help them be realistic about selling their home.
For your sellers who've been wrongly placed in a high-risk flood zone, you'll help them sell their home more easily.
With Second Look Flood you'll get a precise Flood Zone report for the house you're selling. You can use this information to offer a better service than the real estate agents you compete against.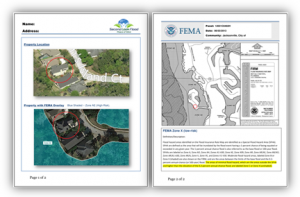 Contact us today for a Free Report
The Flood Report  is very popular with agents. It is a clear document showing the property on the FEMA Flood Insurance Rate Map (FIRM).
We are confident that once you try our service, you will see the value and return. Contact us!
"Thank you! I cannot believe how prompt and thorough your services are. Definitely will use you again for all my real estate transactions. Thanks!  -Lin from Texas